Social Media Marketing Company in Lahore
Professional Approach by Social Media Advertisers
Digital U is a leading social media marketing company in Lahore. Social media serves as a highly effective tool to establish your brand's identity and communicate your message to your intended audience. Many businesses are now capitalizing on these strategies to achieve success in the market. It's a straightforward method: identify your target audience and tailor your product offerings accordingly. This approach not only boosts sales but also rapidly increases your revenue. Utilizing social media is a contemporary and effective means to thrive in the market and outshine your competitors. Even larger brands are actively running social media campaigns to enhance their brand's visibility and reach.
Best Social Media Company in Lahore
Social media marketing has the power to swiftly attract your desired customers and transform them into loyal patrons. Since the advent of social media, even local businesses have embraced it, allowing customers to engage with them. This not only simplifies the process but also provides a direct method for your audience to express their appreciation for your product and suggest improvements. This valuable feedback can significantly boost any business. Many companies are using various strategies to gain a clearer understanding of their products, which is a wise approach. At Digital U, we leverage the potential of social media marketing to connect with the customers you want and ensure their satisfaction and loyalty.
The target audience for products and services
In traditional marketing, it's often challenging to identify your audience and target them effectively. Social media changes the game by allowing you to select your audience and showcase your products directly to them. This approach significantly boosts their interest, and your brand can grow on a global scale. At Digital U, we're here to assist you in crafting a powerful social media marketing campaign that makes your efforts seem effortless. We excel in delivering your brand's message to the audience in an efficient and impactful manner. You'll witness the difference it can make.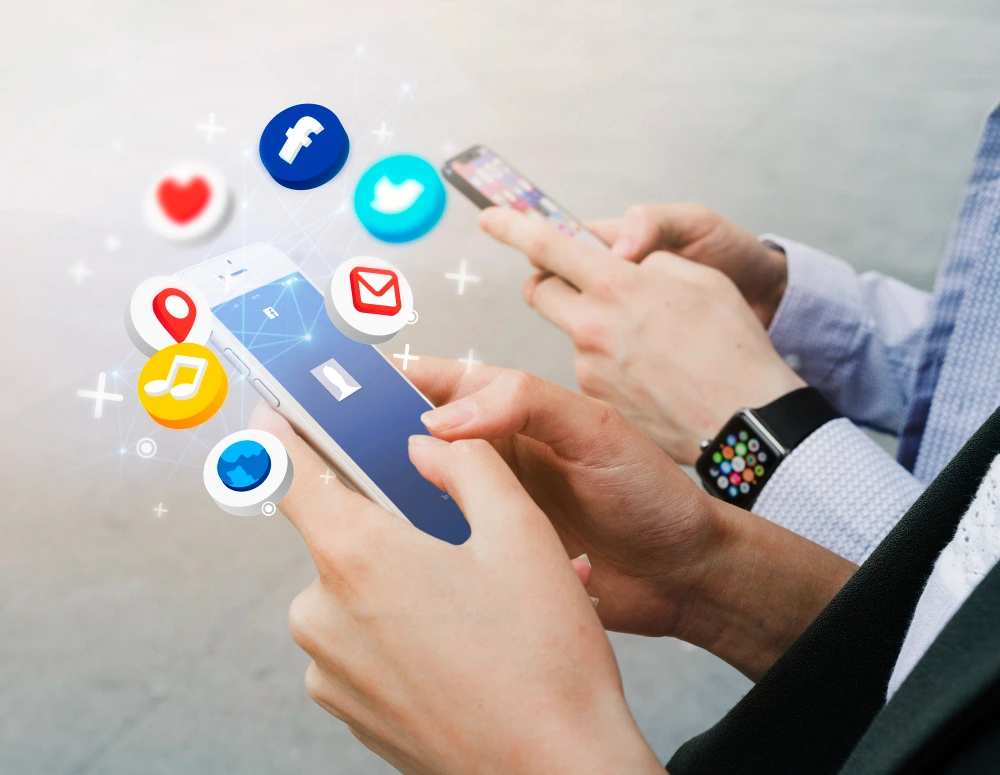 Having a clear and engaging presence on social media platforms is a powerful tool for a company's efficient market growth. Social media audiences love to see their favorite brands online and interact with their teams. At Digital U, we're here to ensure these interactions benefit your business and turn users into loyal customers. We offer a range of social media marketing packages for you to choose from, or we can customize one that suits your brand perfectly. Our services are budget-friendly, ensuring it won't strain your finances, and you'll receive a significant return on investment by partnering with us. Our campaigns are well-known for their success, and we're experts in this field. We provide solutions at affordable rates, making our services accessible even for smaller businesses with limited resources.
Why Hire Social Media Marketing Company?
If you're a business and you're not present on social media, you're missing out on a significant amount of potential business. Social media platforms are where millions of people make purchases, and you have the opportunity to be right in front of them. They're already shopping; why not encourage them to choose your brand? If your brand is limited to physical locations, consider this: how many people can physically visit your business? Perhaps tens or hundreds. However, by having a social media presence, that same brand can reach millions of people. That's the magic of it — your business can achieve a much broader reach in no time. This is why being on social media is essential. A well-thought-out social media branding strategy is crucial to ensure you don't miss out on these opportunities. You can consider hiring a social media marketing company in Lahore, such as Digital U, to significantly boost your revenue in a short amount of time.
Why Choose Hubsol For Social Media Marketing?
In the world of social media marketing, selecting a company with limited experience can jeopardize both your brand reputation and your investment. Social media users have extremely short attention spans, often just a fraction of a second. If your business presentation is dull and fails to capture people's interest instantly, you risk losing potential customers. Without engaging content, your social media marketing efforts may not yield the revenue you desire. It's crucial to choose a well-experienced partner like Digital U to ensure that your brand stands out and effectively connects with your target audience.
Attention Catching Campaign
At Digital U, the top social media marketing company in Lahore, we've mastered the art of capturing your customers' attention and turning their scrolling into purchases. Our confidence is built on years of experience, repeatedly achieving successful results. We don't take a one-size-fits-all approach. Instead, we begin by thoroughly researching and understanding your target audience. We identify the individuals most likely to buy your products and then tailor our advertising efforts to engage and convert them into your loyal customers.
Creative Graphics Designing
Social media marketing isn't just about promotion; it also involves excellent design to capture the attention of your desired audience. Your content needs to be incredibly compelling, encouraging users to click and engage. In the world of social media, users are constantly scrolling, focused on their entertainment. If your ads are ordinary, they'll likely skip past without a second thought. At Digital U, we understand this reality and take it seriously. Our graphic designers put in significant effort to craft irresistible ads that people can't resist clicking on.
We don't just bring you customers; we transform your business into a standout brand. Getting customers is not the sole goal of social media campaigns. Unfortunately, many companies charge a lot but deliver poor marketing that doesn't contribute to building your brand. We understand that for long-term success, a business needs not just customers but loyal patrons who consistently support them. This is where branding becomes essential. When your business has subscribers and a strong reputation, you won't need constant marketing efforts. At Digital U, we specialize in turning your customers into brand enthusiasts. This means that when they're ready to make a purchase, they'll choose your brand. We achieve this through creative branding efforts, making your brand distinctive and memorable in the eyes of your customers.